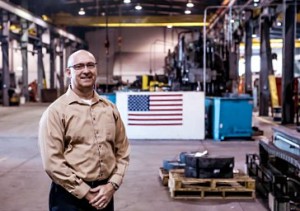 Ronald K. Thompson, President / Owner
The company was founded in Spartansburg, PA in 1967 by partners Vanderhoof, Ireland and Proctor (VIP). A few years later, founder Richard C. Vanderhoof became the sole Owner & President of the company. In 1987, VIP acquired Burke Forging & Heat Treating, Inc. in Rochester, NY; establishing a network of capabilities for supplying pre-machined carbon, alloy and stainless steel forgings. In 2005, VIP expanded operations and relocated to the Industrial Park in Corry, PA.
VIP Machining, Inc. (est. 1967) specializes in supplying rough machined steel forgings, and seamless rolled rings through our Rochester, NY subsidiary company, Burke Forging & Heat Treating, Inc. (Acq. 1987). Our customer service driven cultures are supported with continuous improvements for establishing competitive advantages that deliver value-added services on-time, every time. A collaborated network of capabilities is supported with a inventory of commonly used grades of carbon steel, alloys, stainless, flange and bearing materials. Our competitive advantages leverage our customers lead times for supplying industrial markets in Agriculture, Construction, Energy, Machinery, Power Generation, Transportation, Marine, Aerospace and Defense.
VIP Machining is frequently recognized by its customers for reliability in supplying on-time deliveries within HMLV (high-mix / low-volume) environments. We strive for excellence to maintain our customers trust with competitive pricing, consistent quality, and shorter than expected lead times.
Burke's open-die forging operations commonly supplies forged discs, rings, round bars, rectangular bars, shafts, and seamless rolled rings with minimal stock allowance to lower material & machining costs.
Our established business model of value-added services, combined with our customer driven initiatives continues to build relationships with mutual benefits.
VIP's strategic plans for growth are firmly rooted in its core areas of expertise for supplying rough machined forged products, with a focus on future demands for providing large semi-finished & finished machining with the latest CNC machining technology.
We truly are in the business for supporting your business…your business is our business.
Value-Added Services
VIP's experience in supplying rouch-machined components reduces:
Finish-machining time & labor costs
Tooling costs
Abrupt machining operations with precision CNC Machinery and expensive repair costs
Our greatest value is our commitment for on-time deliveries … reliability you can count on … for building your customers' trust!
Commitments
Continuous Improvements for Competitive Pricing
Skilled Workforce for Quality
Customer Service for On-time Deliveries